Stockholm
·
Hybrid Remote
Junior Growth Consultant - People & Culture
Are you looking for new challenges but aren't sure what title you'd like, only that it must be something outside your comfort zone? Have you put a great deal of effort into a project only to fall flat on your face, seen an organization brought to its knees, or done such poor recruitment that your entire team suffered? Great – then we'd love to get in touch!
About us
Recommended by provides People and Culture expertise and lead clients through sustainable growth and change. We believe in creating value with a combination of guidance, trainings, operational support together with strategic solutions customized to create adaptive and values-driven organizations. We help clients strengthen their culture and employer brand, accelerate recruitment, automate and streamline processes, train leaders, up-skill employees and a lot more. To make that happen we're continuously looking for Growth Consultants who can support our clients on their growth journeys and help us improve and grow Recommended by!
At Recommended by we share the vision of striving to always be a consultant partner that puts people in focus. We believe we're adding the most value when we're working close with our clients and their business; focusing on delivering high quality solutions that make an impact.
About the role
In this role you will actively work to be in the forefront, advocating innovative, digital, and sustainable People and Culture principles. You need to understand, analyse, and familiarize yourself with our clients' goals and challenges and to succeed you'll have support from your team. Assignments will vary over time, but to begin with you will work with operational HR that includes giving the top-notch service to the employees at one of our coolest clients. 
Many times, you will find yourself outside of your comfort zone, but you will always have the support and knowledge of all you colleagues just one Slack message away.
About you
We are looking for people that like to challenge old ways of doing things, are curious about new thoughts and want to take an active part in improving Recommended by, our services, and our clients. 

We hope that you have experience from one or several of key HR areas such as HR admin or Talent acquisition. 
For you to thrive with us, you share our love for change management, growth, an Agile mindset as well as projects and innovation!
You strive for always giving the best possible experience for candidates, managers or employees. 
You are brave enough to navigate in the unknown and stand up for what you believe in. Humble enough to know your limitation and wise enough to share your experience, ask questions and make good judgements. You strive to inspire by encouraging and motivating people around you!

Other than that? Surprise us!
We at Recommended by are driven by a common view of everyone's equal value, which you of course share! We work for an open-minded workplace, both internally and with our clients, and believe that your delivery should not be evaluated on anything other than competence and performance.
We constantly strive to create a good balance between work and personal time by giving all employees the best conditions to take care of themselves both physically and mentally.
The work life balance also includes where we work. You are more than welcome to use our office, located at Bryggargatan 10, or work from home, if that better suits your needs. We all try to find a mix between remote and office work that fits our situations the best.
Locations

Remote status

Hybrid Remote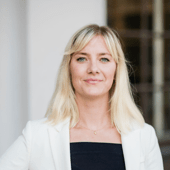 Contact
Tove Oldebäck
CEO, founder, and People & Culture Consultant
What we offer
5000 SEK health allowance

SATS membership

Weekly wellness hour

Health insurances

Collaboration with BlueCall

This gives you the opportunity to work with your mental health and find tools to handle all everyday challenges, both at work and in private life

Certification in Scrum, IC Agile Talent or IC Agile Leadership

Parental pay top-up

30 days vacation

10% pension provision on gross salary
Stockholm
·
Hybrid Remote
Junior Growth Consultant - People & Culture
Loading application form